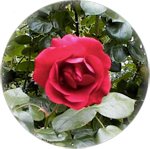 What's in a name? that which we call a rose
By any other name would smell as sweet.

William Shakespeare, from Romeo and Juliet
There is a garden in her face
Where roses and white lilies grow.

Thomas Campion
Go, lovely Rose!
Tell her, that wastes her time and me,
That now she knows,
When I resemble her to thee,
How sweet and fair she seems to be.

Edmund Waller
'Tis the last rose of summer
Left blooming alone;
All her lovely companions
Are faded and gone.

Thomas Moore
A Red, Red Rose
Oh my Luve's like a red, red rose
That's newly sprung in June:
Oh my Luve's like the melodie
That's sweetly played in tune.

As far art thou, my bonnie lass,
So deep in luve am I:
And I will luve thee still, my dear,
Till a' the seas gang dry:

Till a' the seas gang dry, my dear,
And the rocks melt wi' the sun;
I will luve thee still, my dear,
While the sands o' life shall run.

And fare thee weel, my only Luve!
And fare thee weel a while!
And I will come again my Luve,
Tho' it were ten thousand mile.

Robert Burns
The Sick Rose
Oh Rose, thou art sick!
The invisible worm
That flies in the night,
In the howling storm,
Has found out thy bed
Of crimson joy:
And his dark secret love
Does thy life destroy.

William Blake
Heidenröslein
Sah ein Knab' ein Röslein stehn,
Röslein auf der Heiden,
war so jung und morgenschön;
lief er schnell, es nah zu sehn,
sah's mit vielen Freuden.
Röslein, Röslein, Röslein rot,
Röslein auf der Heiden.

Knabe sprach: Ich breche dich,
Röslein auf der Heiden!
Röslein sprach: Ich stche dich,
daß du ewig denkst an mich,
und ich will's nicht leiden.
Röslein, Röslein, Röslein rot,
Röslein auf der Heiden.

Und der wilde Knabe brach
's Röslein auf der Heiden;
Röslein wehrte sich und stach,
half ihm doch kein Weh und Ach,
musst' es eben leiden.
Röslein, Röslein, Röslein rot,
Röslein auf der Heiden.

Johann Wolfgang von Goethe
Die Rose stand im Tau,
Es waren Perlen grau;
Als Sonne sie beschienen,
worden sie zu Rubinen.

Friedrich Rückert
Ode à Cassandre
Mignonne, allons voir si la rose
Qui ce matin avait déclose
Sa robe de pourpre au soleil,
A point perdu, cette vêprée,
Les plis de sa robe pourprée,
Et son teint au vôtre pareil.

Las, voyez comme en peu d'espace,
Mignonne, elle a dessus la place
Las, las, se beautés laissés choir!
O vraiment marâtre Nature,
Puisqu'une telle fleur ne dure
Que du matin jusques au soir.

Donc, si vous me croyez, Migonne,
Tandis que votre âge fleuronne
En sa plus verte nouveauté,
Cueillez, cueillez votre jeunesse:
Comme à cette fleur, la vieillesse
Fera ternir votre beauté.

Ronsard
Par les rains saisi le rosier
et quant a II mains m'i poi joindre
tretout soavet, sans moi poindre
le bouton pris a elloichier
qu'anviz l'eusse san hoichier.
Toutes an fis par estovoir
les branches croller et mouvoir
san ja nul des rains depecier
car n'i vouloie riens blecier
et si m'an convint il a force
entamer un po de l'escorse
qu'autremant avoir ne savoie
ce don si grant desir avoie.
A la parfin, tant vos an di
un po de greine i espandi
quant j'oi le bouton elloichié
Ce fu quant dedanz l'oi toichié
por les fueilletes reverchier
car je vouloie tout cerchier
jusques au fonz du boutonet
si con moi samble que bon et
Si fis lors si meller les greines
qu'el se desmellassent a peines
si que tout le boutonnet tandre
an fis ellargir et estandre.

From Le Roman de la Rose
Hvor kan man plukke Roser
Hvor ingen Roser gror,
Hvor kan man finde Kærlighed,
Hvor Kærlighed ej bor?

Danish folk tune
Idealism och Realism

Nu är jag led vid tidens schism
emellan jord och stjärnor.
Vår idealism och realism,
de klyva våra hjärnor.

Det ljugs, när porträtterat grus
får namn av konst och fägring.
En syn, som svävar skön och ljus
i skyn, är sann som hägring.

Men strunt är strunt och snus är snus,
om ock i gyllne dosor,
och rosor i ett sprucket krus
är ändå alltid rosor.

Gustaf Fröding
Rósin
Undir háu hamra belti
höfði drjúpir lítil rós.
þráir lífsins vængja víddir
vorsins yl og sólarljós.
Ég held ég skynji hug þinn allan
hjartasláttinn rósin mín.
Er kristallstærir daggardropar
drjúpa milt á blöðin þín.
Æsku minnar leiðir lágu
lengi vel um þennan stað,
krjúpa niður kyssa blómið
hversu dýrðlegt fannst mér það.
Finna hjá þér ást og unað
yndislega rósin mín.
Eitt er það sem aldrei gleymist,
aldrei það er minning þín.
Friðrik Jónsson / Guðmundur Halldórsson
Moses supposes his toeses are roses,
But Moses supposes erroneously;
For nobody's toeses are posies of roses
As Moses supposes his toeses to be.
Anonymous