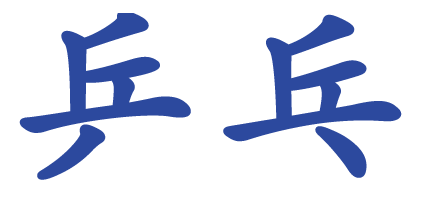 One Word - One Character
One thing you perhaps knew about Chinese writing is that they have one character for each word. That is wrong, like so many things you know.
It is true that most characters have a meaning of their own. The word for China, 中国, zhōng guó, has two characters. The first one means "middle" and the other one "country". This is very much like the English word "townhall", where "town" and "hall", have meanings of their own. But it is not true for all Chinese words. For example, in the word for "coffee", 咖啡, kāfēi, neither of the characters mean much on their own. For "coffee" the same thing is obviously true in English. "Coff" doesn't mean anything and "fee" means something that isn't connected with the drink.
Almost all Chinese characters represent one syllable. The Chinese have plenty of words with several syllables - probably even more than English in a normal text. Just have a look at the sentence above: "That is wrong, like so many things you know." There are eight monosyllables and only one word with two syllables. Of those words "that", "things" and "know" all have two syllable equivalents in Chinese (那个, nèi gè, 东西, dōngxi and 知道, zhī dao).
Guess: The Chinese may tend to have longer words, as they have fewer possible syllables than English.
Reason for guess: In Chinese "bei" is a valid syllable. However neither "beib" nor "eib" is. In English, there are very few restrictions on what a syllable shall look like, and if a new combination pops up, one can often write it in some way. There is for example no English word that starts with "nde-". However, there is no problem writing the name of the African language "Ndebele", and even pronounce it. The Chinese do not have any syllable starting with "fr-", and to write for example "Frankfurt", they use 法兰克福, fǎ lán kè fú, which even without rendering "-rt" has twice as many syllables as Frankfurt. (These four characters do have meanings of their own: law, orchid, overcome and luck.)
A count has given that there are more than 6 times as many different syllables in English as in Chinese, even when the tone difference is counted so mā, má, mǎ and mà are counted as four different Chinese syllables. (If one were to ignore the tone difference, English would have around 20 times as many different syllables as Chinese.)
Even if we ignore foreign names as Ndebele and Frankfurt, it is possible that Chinese needs longer words than English. As the number of concepts in Chinese probably is about the same as in English, it seems likely that they would need about as many words. And to maintain the same level of distinction between different words, they would have to use more syllables per word.
Now you are probably all eager to know what Ndebele is in Chinese as well. It is 恩德贝勒, ēn dé bèi lè, where the characters on their own happen to mean kindness, virtue, shell and rein in. Don't say that you expected to learn that when you got up this morning.
Many Dialects - One and Only One Written Language
Another thing you may know about Chinese is that the Chinese have many different dialects, but that they all use the same characters to write their dialects. That isn't really true, even though the theory is great.
The main Chinese dialect is Mandarin which is roughly the dialect spoken i 北京, Běijīng. It is the basis of 普通话, Pǔtōnghuà, the official version of Chinese in mainland China.
There are plenty of Chinese dialects with words of their own, just like American English uses "sidewalk" when the Brits use "pavement". However, sometimes there is no "standard" character for a local word. A person speaking Cantonese usually says "keui" for "he", but there is no character for "keui" in standard Chinese. In 广州, Guǎngzhōu, Canton, most people would simply write 他, which in Beijing means the same thing but is pronounced tā.
Not only the words and their pronunciation are different in the dialects, but sometimes word order and grammar as well. Many "dialects" are as far apart from each other as French and Portuguese, and most differ much more than Serbian from Croatian or Swedish from Norwegian.
When one says that all Chinese use the same writing, that is true for most of mainland China, but it would be wrong to say that they use the same writing to write down their own language. The Chinese situation somewhat resembles what Europe would be like, if all Europeans decided to go on speaking their own languages, but to use only Latin in written texts. It would be great for creating a common identity, and magnificent for European communication, but it wouldn't be that easy to learn.
To be fair, the Chinese characters have a big advantage over written Latin, and that is that they do not suggest an exact pronunciation. You cannot tell from 秋 that it is pronounced "qiū" in Beijing but "chao" in Canton. However, writing English with Latin characters you have to choose between typing "fall" or "autumn" for the same word. There is no pronunciation independent spelling. And typing it in Latin, "autumnus", would give a clear bias to the British English pronunciation.
Not all Chinese have given up writing in their own dialects however. In Hongkong there is a semi-official way of writing Cantonese with characters that do not exist in Mandarin. The word "keui", mentioned above, can be written using 佢, for example, and there is a long list of characters that are used only in Cantonese. Writing using "Mandarin" characters is however the common way. The most obvious difference between writing in Hongkong and mainland China is that the characters used mainland China are "simplified characters", 简体字, jiǎntǐzì, while the characters in Hongkong are "traditional characters", 正体字, zhèngtǐzì or 繁体字, fántǐzì. Taiwan and Macao also use traditional characters.
The simplified characters were standardized in the People's Republic of China in the 50s and 60s. In many cases they look exactly the same as traditional characters. In many cases it is easy to deduce from a character what it will look like in the other variant. In some cases it is completely impossible. Most educated or internet-savvy Chinese can at least read both variants fairly well. The characters on this page are simplified characters.
So, the people in Hongkong write with different characters from Beijing, and they mostly speak a different language (Cantonese). Nevertheless, they are undoubtedly Chinese.
The Chinese will soon Start Using Latin Characters
That is very unlikely. There is basically only one disadvantage with using Chinese characters in Chinese: it is very time consuming to learn.
Once you have learnt them, it is much more convenient than Latin characters. That symbols are useful is something you can see easily even in English. Suppose someone writes the following question: "How much is thirty three dot three percent of six hundred and three dollars?" Compare that to "How much is 33.3 % of $603?" Some people will have the answer $201 in their head even before having read all the words in the question, if it is given in the second format. The first format is simply not useful, as it lacks the visual symbols %, $ and the numbers.
Chinese characters are a very large number of efficient visual symbols.
Another advantage is ironically that one can type Chinese characters faster than English characters on an English keyboard. It is true that many Chinese simply use the standard pinyin Latin form for each character, and that is not particularly fast, as you have to stop and select characters from lists. If you type for example "b e i j i n g" you will get a list containing 北京, běijīng, China's capital and 背景, bèijǐng, background, and you will have to pick which one you want, and that can be time consuming - especially if the list is long. For example just typing "z h i" can return about 90 matches.
However, there are systems of typing Chinese characters that use the shapes of the characters, and once one masters these systems, it can be much quicker to type than English. On an English keyboard, every single character has to be typed, no matter how obvious it is. If you want to write "bittersweet", you cannot stop after "b i t t e r s" and tell the computer to do the rest itself. However, some of the Chinese systems are full of that kind of shortcuts. In one system you can type 北京,Beijing, with just "u x y i". For some simple words it is just one character plus <space>, like "q <space>" for 我, wǒ, "I, me". And some longer combinations have really efficient shortcuts like "u c f m" for 交通规则, jiāotōng guīzé, "traffic regulation". No character takes more than four keys to type in this particular system, and many take much less. Compare that with English "through".
Admittedly it takes time to learn this kind of system, but it is in no way impossible, and the reward is a very fast typing speed.
Everyone in the World should Use Chinese Characters
Absolutely not. Sometimes enthusiasts claim that we all should start writing with Chinese Characters to facilitate international communication. One concept - one character (which isn't true as you saw above) and still everyone could go on speaking their own languages.
One of the most compelling arguments against using Chinese Characters outside China is Japanese. They actually do it. Almost. And the result is horrible in a charming way.
Historically the first writing system in Japan was Chinese characters. However, the Japanese soon found out that it simply did not work. Japanese is full of word endings just like English. The English have their -ing, -ed, -s and so on. The Japanese have endings like -なければなりません (-nakerebanarimasen). The Chinese hardly have any endings at all, and therefore there were no Chinese Characters, or Kanji, to write them. In the beginning the problem was solved by actually typing in Chinese instead of Japanese, but after some time the Japanese started using a phonetic system in addition to the kanji - the kana.
The situation was complicated by the fact that the Japanese borrowed words heavily from Chinese, but at the same time they of course kept their own words. This meant that the same character could be pronounced in a Chinese way or a Japanese way. The character 山, "mountain", for example can be pronounced "yama" with the Japanese word or "san" with the Chinese word. The present day Chinese pronunciation is "shān". So looking at a character, you cannot safely tell how to pronounce it.
But this wasn't fun enough for the Japanese. They imported Chinese pronunciations from different parts of China at different times. And as the Chinese language changed, the pronunciations did too, so the same character can have several different "Chinese" pronunciations. The character 行, which means "go", is currently pronounced xíng in Mandarin Chinese.
The Japanese borrowed the pronunciation "gyô" from Southern China in the 6th century, and therefore the word 行儀, manners, is today pronounced gyô-gi.
In the 8th century the Japanese imported the pronunciation "kô" from the area around the capital of the time, 长安, Cháng'ān, in central China. Therefore 行進, march, is today pronounced kô-shin.
Some time around the 11th century the Japanese wanted to spice their language up with yet some new pronunciation, and imported "an" from the area around present 上海, Shànghǎi, and nowadays 行脚, pilgrimage, is pronounced an-gya.
This mix of different pronunciations of the thousands of current kanji makes the Japanese writing arguably the most difficult one in the world today.
But aren't they helped in international communication by the fact that they already know the Chinese characters?
Well, not only has the Chinese pronunciation changed, but so have some of the characters. The first character of the name of Guǎngzhōu (Canton) is written 广 by the mainland Chinese with their simplified characters. The traditional character is 廣, and that is what the Japanese used to write once upon a time. However, today the equivalent Japanese characters are 広. So the characters that could have been used universally now have three different shapes, none of which is an obvious variant of the others. So much for an international standard.
There is one more important reason why we need not worry too much about using Chinese characters instead of the Latin alphabet in the West: it is terribly difficult for people who don't speak Chinese. The Chinese have a big advantage when it comes to learning Chinese characters, and that is that the shapes are somewhat sound dependent. 青, qīng, means "blue". If you add the character for speaking to the beginning, you get 请, qǐng, which means "ask" or "invite". If you add the character for standing to the beginning you get 靖, jìng, which means "quiet". And if you add the character for water to the beginning you get 清, qīng, which means "clear". To the Chinese the shape of the characters make some sense. They all include 青, to give an approximate indication of the pronunciation. This happens to work for the Japanese as well, as all the four characters can be pronounced "sei".
However, Europeans would not be helped by this at all. It would simply be confusing to have the 青 elements in a character for "ask", as "ask" doesn't sound very much like "blue".
The Japanese have one "Chinese" Alphabet and two "Japanese" ones
That is so clearly true, that I will contradict it.
Let's start with the mainstream truth, before I contradict it. The first Japanese writing system was imported from China, and the first Japanese texts were mostly easier to read for Chinese than for Japanese. In fact, the Japanese invented a special kind of system to tell in which order words were to be read. The characters used in this system are called 返り点, kaeriten, which basically means "turn around character". The characters could mean things like "before you read the next character, read the character 3 characters down". As centuries passed, the Japanese started using Chinese characters to express Japanese sounds, even when there was no link to the meaning. They could for example use the Chinese character 天 to express the sound "te". The modern Chinese pronunciation of the character is tiān, which is close enough, and it was probably fairly similar a thousand years ago. The meaning of the character is "heaven".
There was of course a possible confusion, when one saw such a character. Was it supposed to be interpreted as "heaven", or was it written simply to indicate pronunciation? The Japanese solved this ambiguity by writing the characters in slightly different ways depending on how it would be used. If it was supposed to mean "heaven", they wrote 天, and if it only was used to indicate the sound "te", they wrote て or テ. The original way to write the character was called 漢字, "kanji", which simply means "Chinese character". The modified way used to indicate pronunciation only is called 仮名, kana. There are two different kana-systems, 平仮名, hiragana, and 片仮名, katakana. The usage of katakana is somewhat similar to how Europeans use italics - mostly for foreign words and to stress part of a text.
That's all you need to know in order for me to contradict it.
In Japanese there are thousands of Chinese kanji, most of which are still recognisable to the Chinese. However, to the Japanese this wasn't enough, so they invented some kanji of their own. There is for example the character 峠, touge, which means mountain pass. It was home grown in Japan, and the Chinese wouldn't even be able to pronounce it. There are hundreds of such 国字, kokuji, home grown characters, in Japanese, so one can argue that the kanji aren't Chinese.
And what about the "Japanese" kana? Well, every single one of the kana has a Chinese origin. There is no exception to that rule. So the "Japanese" kana are in fact Chinese, but the "Chinese" characters aren't.
The characters on the top of this page are the Chinese characters for "table tennis" - pīng and pāng.

15 August 2005