There are such a lot of important things to consider in life. We learn. We make mistakes. We learn from our own mistakes and thoughts. However, it is very difficult to learn from other people's mistakes, because their mistakes are usually quite boring. This is of course unfortunate. Just imagine if we had been able to learn from all the mistakes of all past generations. Every mistake your dad did, and your grandfather and all their ancestors. If we had only been able to ask the Neanderthals where they went wrong, and why they became extinct.
As we learn more from our own thoughts than from others, this week's pondering is something for you to consider. Click on this picture.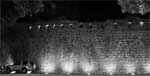 Look at it. Think about it. Think again. Try thinking from another angle. Do you get any insights to carry with you in life? No? Well, then, consider it to have been a mistake to ever have clicked on the picture. Learn from your mistake.
25 September 05